POBCO Stainless Steel Leveling Mounts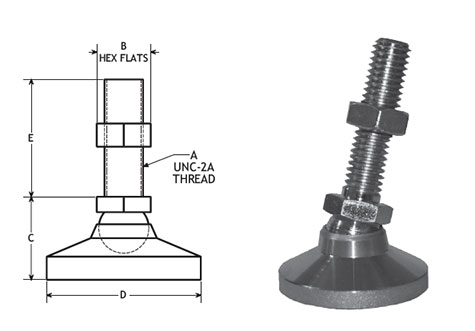 Specifications
Plated carbon steel. Hardened stud with ball end is machined from solid bar. Staliness steel type 303. Jam nut standard part of assembly.
All dimensions, except for thread dimensions have maximum +/- 0.5mm (.019o) tolerance.
Information
Leveling Mounts Swivel pads swivel 7-1/2o each side of the centerline to adjust to uneven surfaces and level machine tools, electronic racks, benches, etc. Large diameter pad design assures solid support.
Part Number

A
B
C
D
E

Load (kg)

Gold Iridite Steel
Stainless Steel
Stainless Steel
3T1250LIT
3T1250LTM
1/4-20
7/16
.70
1
1-1/4
1000
6T2LIT
6T2LTM
3/8-16
5/8
7/8
1-1/4
2
3750
8T2LIT
8T2LTM
1/2-13
3/4
1-1/8
1-7/8
2
5000
10T2LIT
10T2LTM
5/8-11
7/8
1-1/4
2-1/2
2
6000
11T2LIT
11T2LTM
3/4-10
11/16
1-1/2
3
2
7400
12T425LIT
12T8LTM
1/8
1-3/8
1-7/8
4
4-1/4
20000
1025545
12T8LTM
1/8
1-3/8
1-7/8
4
8
20000
- - - - -
13T2LTM
5/8-18
7/8
1-1/4
2-1/2
2
6000