POBCO Light Duty Molded Nylon-MD Sleeve Slit Flange Bearings

These low cost, thin wall, slit flange bearings provide good wear resistance and smooth maintenance free operation. These bearings are suitable for both rotational and linear movements. Operating temperature ranges from -40 degrees F to 176 degrees F maximum long term. Thin wall construction prevents excessive heat build up that could cause bearing failure. Thermal and moisture expansion is non-damaging because of the slit design. Typical industries include appliance and office maching manufacturing, automotive manufacturing, marine manufacturing and any metal on metal or shaft support application where space is minimal.

ID allows for clearance of that shaft size when installed. OD is housing bore.
Common sizes listed below. Please inquire about other sizes and materials.
POBCO Slit Flange Bearings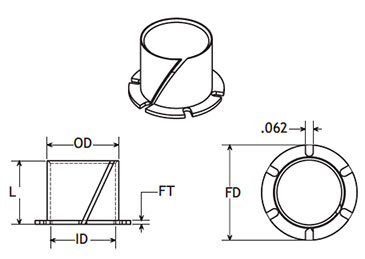 Part
Number

ID Inches

OD Inches

Length
Inches

Flange
Dia.

Flange
Thickness

SLITMD0303

3/16"

0.2339

3/16"

5/16"

0.0252

SLITMD0404

1/4"

0.2965

1/4"

13/32"

0.0252

SLITMD0505

5/16"

0.3744

5/16"

1/2"

0.0299

SLITMD0606

3/8"

0.437

3/8"

19/32"

0.0299

SLITMD0707

7/16"

0.4996

7/16"

21/32"

0.0299

SLITMD0808

1/2"

0.5618

1/2"

3/4"

0.0299

SLITMD1010

5/8"

0.687

5/8"

15/16"

0.0299

SLITMD1212

3/4"

0.8118

3/4"

1-1/8"

0.0299

SLITMD1414

7/8"

0.937

7/8"

1-5/16"

0.0299

SLITMD1614

1"

1.0933

7/8"

1-1/2"

0.0449
POBCO Slit Double Flange Bearings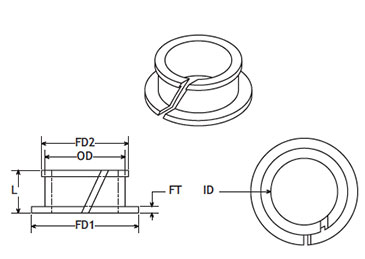 Part
Number

ID Inches

OD Inches

Length
Inches

Flange1
Dia.

Flange2
Dia.

Flange1&2
Thickness

Metal Thickness
Range

SLITMD0301DF

3/16"

0.2343

0.138

5/16"'

1/4"

0.03

.040/.075

SLITMD0302DF

3/16"

0.2343

0.200

5/16"

1/4"

0.03

.072/.135

SLITMD0401DF

1/4"

0.3125

0.138

7/16"

11/32"

0.03

.040/.075

SLITMD0402DF

1/4"

0.3125

0.200

7/16"

11/32"

0.03

.072/.135

SLITMD0501DF

5/16"

0.3750

0.138

1/2"

13/32"

0.03

.040/.075

SLITMD0502DF

5/16"

0.3750

0.200

1/2"

13/32"

0.03

.072/.135

SLITMD0601DF

3/8"

0.4375

0.138

9/16"

15/32"

0.03

.040/.075

SLITMD0602DF

3/8"

0.4375

0.200

9/16"

15/32"

0.03

.072/.135

SLITMD0701DF

7/16"

0.500

0.138

5/8"

17/32"

0.03

.040/.075

SLITMD0702DF

7/16"

0.500

0.200

5/8"

17/32"

0.03

.072/.135

SLITMD0801DF

1/2"

0.5625

0.138

11/16"

19/32"

0.03

.040/.075

SLITMD0802DF

1/2"

0.5625

0.200

11/16"

19/32"

0.03

.072/.135

SLITMD1001DF

5/8"

0.6875

0.138

7/8"

23/32"

0.03

.040/.075

SLITMD1002DF

5/8"

0.6875

0.200

7/8"

23/32"

0.03

.072/.135

SLITMD1201DF

3/4"

0.8125

0.138

1"

27/32"

0.03

.040/.075

SLITMD1202DF

3/4"

0.8125

0.200

1"

27/32"

0.03

.072/.135