POBCO Roller Bearings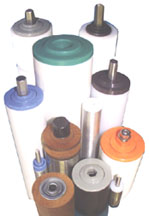 POBCO manufactures a wide variety of ROLLERS. POBCO rollers are used extensively on conveyors and other equipment in standard and custom designs. Our rollers are designed and engineered to provide superior service in the complex field of material handling.

The life of a roller is extended by utilizing the largest possible diameter with the shortest possible length to minimize roller deflection. Important dimensional factors governing roller specifications must be taken into consideration, such as the maximum load and speeds to be encountered.

The following summary of POBCO roller components, materials and bearings will assist in designing rollers to meet your engineering requirements.
TYPICAL ROLLER CONSTRUCTION
Plain Roller (no shaft)
Roller with Round Shaft
Roller with Hex Shaft
Spring-Loaded Roller (usually with hex shaft)
(One directional Roller available using any
of the above roller construction methods.)
POBCO ROLLER MATERIALS
High-impact PVC (all pipe sizes)
Steel (all tubing and pipe sizes)
Stainless Steel (all tubing and pipe sizes)
Aluminum (all tubing and pipe sizes)
All-Plastic Roller (variety of plastic materials)
All-Hardwood Roller (several forms of construction)
POBCO MAJOR BEARING MATERIALS
POBCO-B (fluid lubricant-filled hardwood wood bearings)
POBCO PLUS (fluid lubricant-filled UHMWPE plastic)
POBCO ULTRA-D (UHMWPE plastic)
POBCO DELRIN® (natural acetal plastic)
POBCO NYLONS
POBCO NYLON MD (solid lubricant-filled Nylon)
POBCO NYWEAR (fluid lubricant-filled Nylon)
POBCO RULONS® (high heat food grade plastic)
POBCO PTFE (high heat plastic) (additives available)
POBCO SHAFT MATERIALS
POBCO ROLL END BEARINGS
The bearing is the heart of any roller assembly. POBCO non-metallic bearings often surpass the average life expected of commercial ball bearings, especially in corrosive, abrasive and wet environments.

For drive conveyor systems POBCO offers a variety of self-lubricating roll end bearing materials.

For GRAVITY CONVEYOR SYSTEMS POBCO offers plastic BALL BEARINGS incorporating the use of precision stainless steel balls. This bearing was developed realizing momentum of the conveyor system must be maintained depending upon the weight of the product being motivated. However, in many gravity conveyor applications our direct-journal-contact self-lubricating bearings (as used on drive conveyor systems) provide sufficient roller momentum.