POBCO SnapIdle® Chain Tensioner
Standard and Specialty Application Styles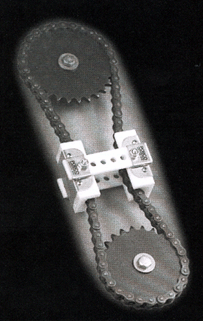 POBCO Snapidle's patented concept induces minimal wear to the chain drive since the chain rides on the side plates. (U.S. Patent No:4,662,862 - 4,798,562. Foreign Patents Pending)
POBCO Snapidle provides a constant amount of tension to the chain drive, increasing drive life. It tensions, guides, quiets, controls and increases both chain and sprocket life. It requires no mounting devices or maintenance and is a benefit to the drive system, not a deterrent. Economical, easy to install, maintenance free, the POBCO Snapidle is the answer to the problem of controlling drive chains.

By being able to take up tension through the chain, POBCO Snapidle eliminates the need for adjustable center distance drives. All chains may be ordered in even pitches (eliminating half links) since the additional tension may be taken up by the POBCO Snapidle.

Since the POBCO Snapidle "floats" on the chain drive and actually absorbs shock, it does not add to vibration in the drive. Both sprockets will have the maximum chain wrap possible, thereby increasing chain life (load sharing) and sprocket life (the chain is unable to crawl out of the teeth).

On large chain drives, the expense required to install a tensioning system may be unrealistic. A POBCO Snapidle unit at a fraction of the cost of traditional tensioning methods can tension almost any roller chain drive. Many multiple strand drives cannot be tensioned by traditional idling or tensioning systems, but are readily fitted with POBCO Snapidle economically.
POBCO Hi-Temp Snapidle
For temperature applications ranging from 200 degrees Fahrenheit to 450 degrees Fahrenheit, the PSI-HT series should be considered. With all the benefits of the standard POBCO Snapidle, it offers the enhanced benefit of controlling drive chains in extreme temperatures. Where most tensioning systems are not applicable, POBCO Hi-Temp Snapidle solves the problem.
POBCO Extra-Heavy Snapidle

In extreme environments, there is the PSI-XH series. Dry, dusty and gritty environments (where the chain is usually not lubricated) require a product that can take the punishment. Recommended for the harshest environments and for high speed chain applications, the PSI-XH is tougher than the environment.
POBCO Fixed Mount Single Guide Snapidle

Where space is at a premium, especially on serpentine drives, the PSI-SG series is easily installed and adjustable. An economical way to adjust tension and control drive systems where the standard POBCO Snapidle is not applicable.