POBCO Captured Chain Guides
Available in a variety of POBCO materials including POBCO Ultra-D (UHMWPE), POBCO Plus (Fluid Lube-Filled UHMWPE), POBCO SRU (Static Reduced UHMWPE), POBCO PTFE (Hi-Temp), POBCO Acetal (Delrin®) and POBCO-B Wood Bearing Material. When ordering, please indicate size of chain. Non-standard sizes & lengths are available.

POBCO Metal Mounting Channels are provided with or without pre-punched mounting holes on 12 inch centers. These channels can also be tack-welded into position before the Plastic strips are inserted into the channel. Channels are available in Stainless Steel and Galvanized Steel. POBCO can modify guides for heavy duty side plate chain, metric chain, cotter pin chain and brands of chain not made to Rex specifications. Please tell us your specific chain and brand before ordering.
Click here for: Mounting Channel (Ordered Separately)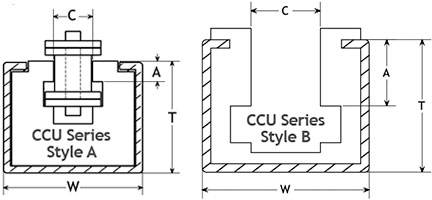 See Mounting Channel

CCU SERIES

UMHW Part No.
INCHES
Chain Size
Mounting Channel
Style
A
W
C
T
CCU-35
.17
1.18
.22
.94
ASA 35-1
D
A
CCU-40
.30
1.18
.34
.94
ASA 40-1
D
A
CCU-50
.36
1.18
.41
.94
ASA 50-1
D
A
CCU-60S
.47
1.18
.45
.94
ASA 60-1
D
B
CCU-60
.47
1.77
.45
1.58
ASA 60-1
E
A
CCU-80
.60
1.77
.65
1.58
ASA 80-1
E
A
CCU-100
.74
1.77
.77
1.58
ASA 100-1
E
A
Flanged Series below available for 40, 50 and 60 Chain.
Flanged Channel allows for side mounting with no interferance with the plastic insert.
Metal Channel Flange Series

Part No.
Material
MCS1317FLNGL120
Galvanized Steel
MCSS1317FLNGL120
Stainless Steel
| | | |
| --- | --- | --- |
| UHMW Inserts | Chain Size | Style |
| CCU40L120S3 | ASA 40-1 | A |
| CCU50L120S3 | ASA 50-1 | A |
| CCU60L120S3 | ASA 60-1 | B |
| CCU08B1L120S3G - Green | 08B1 | A |
| CCU10B1L120S3G - Green | 10B1 | A |
| CCU12B1L120S3G - Green | 12B1 | B |