POBCO Delrin® Roll End Bearings for Standard Pipe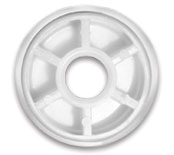 Molded Bearings to these listed dimensions are available also in PTFE-Filled-Delrin (DT) and in Lubricant-Filled-Nylon (MD). To order in these materials, remove the prefix D in the part number(s) and replace with DT or MD.
(Other bearing-grade plastic materials and POBCO-B lubricant-filled wood bearings are available.)
Some sizes listed below.
Many other sizes available with low minimums to buy, please inquire.
Standard Pipe

Pipe Size

Pipe I.D.

Shaft

LGTH

FT

E

Part No.

1
Sch. 40
1.315 O.D.

1.049
1/4
3/8
1/2
5/8
1/8
3/16
D-16P40-04
D-16P40-06
D-16P40-08

1-1/2
Sch. 40
1.900 O.D.
1.610
5/16
3/8
1/2
9/16
5/8
1
3/16
5/16
D-24P40-05
D-24P40-06
D-24P40-08
D-24P40-09
D-24P40-10

1-1/2
Sch. 80
1.900 O.D.
1.500
3/8
1/2
5/8
3/4
1
3/16
5/16
D-24P80-06
D-24P80-08
D-24P80-10
D-24P80-12

2
Sch. 40
2.375 O.D.
2.067
3/8
1/2
9/16
5/8
3/4
1
3/16
5/16
D-32P40-06
D-32P40-08
D-32P40-09
D-32P40-10
D-32P40-12

2
Sch. 80
2.375 O.D.
1.939
3/8
1/2
5/8
3/4
1
3/16
5/16
D-32P80-06
D-32P80-08
D-32P80-10
D-32P80-12

2-1/2
Sch. 40
2.875 O.D.
2.469
3/8
1/2
5/8
3/4
1
3/16
5/16
D-40P40-06
D-40P40-08
D-40P40-10
D-40P40-12

3
Sch. 40
3.500 O.D.
3.068
1/2
5/8
3/4
1
1-1/4
3/16
3/8
D-48P40-08
D-48P40-10
D-48P40-12
D-48P40-16

4
Sch. 40
4.500 O.D.
4.026

1/2
5/8
3/4
1
1-1/4

1-3/4
3/16
3/8
D-64P40-08
D-64P40-10
D-64P40-12
D-64P40-16
D-64P40-20