POBCO Spherical Bearings (Metal Mounted)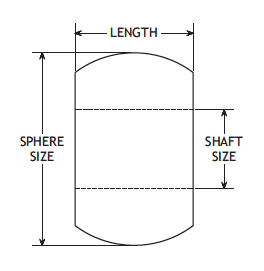 Available in a variety of POBCO Plastics, including Ultra-D (UHMWPE), Plus (Food Grade Lube-filled UHMWPE), Nylon, Delrin® and POBCO-B Wood Bearing Material.
POBCO self-aligning spherical bearings are available for any bearing housing having a special inside diameter. They are used for new installations or as replacements for other spherical bearings, icluding bronze, plastic, carbon, wood or ball bearings. Dimensional details or a sample of the original bearing being replaced should be furnished. Special designs, such as spheres with shoulders or reliefs, can be furnished for your housings. POBCO spherical bearings offer the added option of being available in two piece contruction (TP).
(Common spherical bearings are listed in the tables)
Click here for: Shoulder Relief Spherical Bearings
For Tri-Mount Housings (Inch Spheres)

Sphere

Length

Shaft**

Part No.**

1"
1/2
1/4
5/16
3/8
7/16
1/2
9/16
5/8
TSB*-041608
TSB*-051608
TSB*-061608
TSB*-071608
TSB*-081608
TSB*-091608
TSB*-101608
1-3/16"
3/4
1/2
9/16
5/8
11/16
3/4
TSB*-081912
TSB*-091912
TSB*-101912
TSB*-111912
TSB*-121912
1-11/16
1-1/4
1/2
9/16
5/8
11/16
3/4
13/16
7/8
15/16
1
TSB*082720
TSB*092720
TSB*102720
TSB*112720
TSB*122720
TSB*132720
TSB*142720
TSB*152720
TSB*162720
2"
1-1/2






1-3/8
3/4
13/16
7/8
15/16
1
1-1/16
1-1/8
1-3/16
1-1/4

TSB*-123224
TSB*-133224
TSB*-143224
TSB*-153224
TSB*-163224
TSB*-173224
TSB*-183224
TSB*-193222
TSB*-203222
2-1/2"
1-1/2"
1
1-1/16
1-1/8
1-3/16
1-1/4
1-5/16
1-3/8
1-7/16
1-1/2
1-9/16
1-5/8
1-11/16
1-3/4
TSB*-164024
TSB*-174024
TSB*-184024
TSB*-194024
TSB*-204024
TSB*-214024
TSB*-224024
TSB*-234024
TSB*-244024
TSB*-254024
TSB*-264024
TSB*-274024
TSB*-284024
3-1/4"
2







1-3/4
1-1/2
1-5/8
1-11/16
1-3/4
1-15/16
2
2-1/8
2-3/16
2-1/4
2-7/16
2-1/4

TSB*-245232
TSB*-246232
TSB*-247232
TSB*-248232
TSB*-315232
TSB*-325232
TSB*-345232
TSB*-355232
TSB*-365232
TSB*-395228
TSB*-405228

For ParaMount Housings
(Metric Spheres)

Sphere

Length

Shaft**

Part No.**

40mm (1.575")
1-1/8
1/2
9/16
5/8
11/16
7/8

PSB*-084018
PSB*-094018
PSB*-104018
PSB*-114018
PSB*-144018
47mm (1.850")
1-1/4
3/4
1
PSB*-124720
PSB*-164720
52mm (2.047")
1-1/2
3/4
7/8
15/16
1
1-1/8

PSB*125224
PSB*145224
PSB*155224
PSB*165224
PSB*185224
62mm (2.441")
1-3/4
1
1-1/8
1-3/16
1-1/4
1-1/2

PSB*166228
PSB*186228
PSB*196228
PSB*206228
PSB*246228
72mm (2.835")
1-3/4









1-5/8
1-1/4
1-15/16
1-3/8
1-7/16
1-1/2
1-9/16
1-5/8
1-11/16
1-3/4
1-13/16
1-7/8
1-15/16
2

PSB*-207228
PSB*-217228
PSB*-227228
PSB*-237228
PSB*-247228
PSB*-257228
PSB*-267228
PSB*-277228
PSB*-287228
PSB*-297228
PSB*-307228
PSB*-317226
PSB*-327226
80mm (3.150")
2
1-1/2
1-9/16
1-7/8

PSB*-248032
PSB*-258032
PSB*-308032

85mm (3.346")
2
1-5/8
1-11/16
1-3/4
2

PSB*-268532
PSB*-278532
PSB*-288532
PSB*-328532

90mm (3.543")
2
1-13/16
1-7/8
1-15/16
2-1/4
PSB*-299032
PSB*-309032
PSB*-319032
PSB*-369032
100mm (3.937")
2
2
2-1/8
2-3/16
2-1/4
2-7/16
2-1/2
2-11/16
2-7/8
2-15/16
3
PSB*-3210032
PSB*-3410032
PSB*-3510032
PSB*-3610032
PSB*-3910032
PSB*-4010032
PSB*-4310032
PSB*-4610032
PSB*-4710032
PSB*-4810032
* Please Specify Bearing Material
** See Properties of POBCO Materials to complete part number,
for two piece sphere, add suffix -TP before completing part number.
*** Any Shaft Size Is Available Up To The Maximum Listed Size For Each Amount